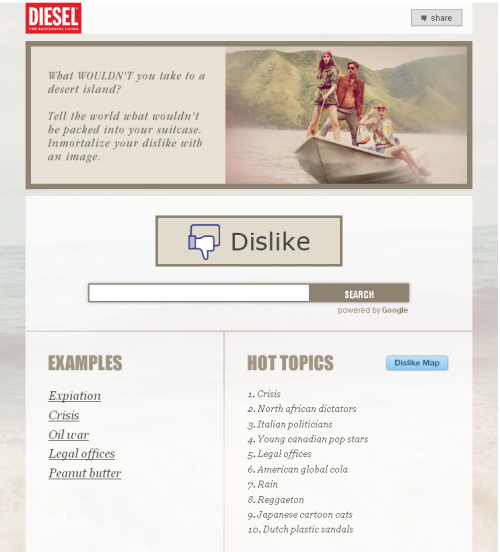 Mentre Facebook cambia il modo in cui nelle bachece degli utenti vengono mostrati i contenuti su cui hanno espresso il "like" (rendendolo molto più evidente secondo alcuni, invasivo secondo altri) c'è chi, sfruttando la pervasività ormai culturale dell' "oggetto Like" si inventa un social object, una campagna col viral dna o una killer app a seconda dei punti di vista. E' Diesel, marca che ha sempre fatto della creatività il suo posizionamento (e viceversa), che tira fuori un asso dalla manica (o un uovo di colombo): è la Dislike app, l'applicazione Facebook che consente di dire ai nostri amici cosa non ci piace (es: la polizia, la guerra, i politici). Cosa c'è di più facile, efficace e coerente con la marca a livello di comunicazione? Nulla. Ed è per questo che non ho dubbi sul fatto che l'applicazione si avvii a riscuotere un successo clamoroso.
Nel frattempo:
-la modalità di condivisione dei like sulle bacheche degli utenti (dove da ora in poi verranno mostrate anche le immagini del contenuto) genereranno ancora più referral e traffico da Facebook
–Google corre ai ripari intuendo che Facebook è sempre di più "il filtro sociale della rete"
For one thing, the young'ens are using social tools such as Facebook to sidestep all the junk found in a Google search.
ps: naturalmente al terzo posto della classifica Dislike c'è "italian politicians". A voi i commenti.
ps2: …e in Italia, qualcosa sta per accadere